Keeping up to date with the changes within the Scent Work industry is really important for our organsation to provide current advice and the best methods for training our dogs.  Although COVID-19 appeared in 2020 it gave the opportunity to complete more professional development.
We have attended a variety of short session with the Swedish Working Dog Insitute through online courses for Tracking and Progession Planning, as well as a month long online course in different methods of passive indication training.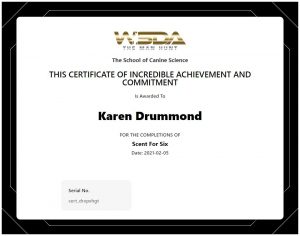 We also completed a course with The School of Canine Science – Scent for Six.  This was a six month online course learning different aspects of the scent work for trainers in the Scent Work Competition world.  This was the best online course I have a attended that has both practical and theory, based both on Science reasearch and real world dog training making it a well round and informative course.  Well worth completing.
All of these learning opportunities are only expanding our knowledge further to help growers train their own dogs for the surveying of their own truffière.